IGNACIO CERVANTES: PIANO DANCER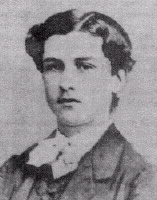 by Glenn Jenks
The music of Cuban composer Ignacio Cervantes (1847-1905) is almost entirely unknown in this country today. Despite the fact that he was published in both London and New York,1 his work has slipped beneath the radar of the academic community and scarcely ever gets programmed on the concert stage.
The issue here is not an aesthetic one. Even a cursory examination of Cervantes' piano music reveals a composer comfortable in his craft, with a strong sense of musical propriety and an enviable melodic gift. Cuban musicologists hit their highest notes singing his praises, his genius eclipsed only by Ernesto Lecuona in the 20th century.
Cervantes studied with the famous Cuban pianist Nicolas Espadero when he was a young boy. Espadero considered him his prize pupil, and when Louis Moreau Gottschalk visited Cuba the proud teacher introduced the two. Gottschalk took him on as a student, and later arranged for the young Cervantes to study with Antoine Francois Marmontel and Charles Alkan at the Paris Conservatoire.2
In Paris, Cervantes enjoyed much success, and in 1866 won first prize in a piano competition adjudicated by Daniel Auber and Charles Gounod, among others, for his performance of Heinrich Herz' Fifth Piano Concerto.3 In the two years that followed he also won scholastic awards in harmony, fugue, and counterpoint. Had he been allowed to compete for the Grand Prix de Rome, some felt he would have won that as well; but as a foreigner he was ineligible.
Gradually he won a following as an accompanist, polished his conducting skills,4 and cultivated the friendship of Gounod and Rossini. Orlando Martinez, one of Cervantes' Cuban biographers, relates a colorful anecdote concerning his gifts as a pianist. Franz Liszt overheard Cervantes practicing at his Paris home one afternoon and was curious as to who was playing so wonderfully; so, he knocked on his door. Cervantes was astonished to find the maestro at his doorstep. Liszt apologized for the interruption, and asked if he might listen awhile. "You play so well that I could not resist finding out who you were," he is supposed to have said.5
In spite of all the recognition and his carefully cultivated skills, a career in the concert halls of Europe was not to be. Cervantes chose to return to Cuba, and on January 6, 1870 arrived back in Havana. It is hard to dispute his Cuban biographers who called this move "artistic suicide." Nevertheless, following his return Cervantes became the most revered pianist of his day in those relatively small musical circles. Had he remained in Europe who knows how much or how little of that Carribean sandunqa6 he would have retained in his compositions.
Cervantes' musical style is in the mainstream of Romantic musical tradition. His pianism, though clearly influenced by Gottschalk, is more restrained, less "over-the-top" than either the exotic American or Liszt. His work is complex, however, and filled with wonderful contrapuntal ideas, rich melodies, comfortable "piano tricks," and always perfect voice-leading.
In addition to a large number of piano pieces, he has left us a catalogue of works that include a Symphony (in c-minor), two operettas, an opera, other orchestral works, plus compositions for voice and piano, some chamber music, and various transcriptions.7
His best known works , however, are the 41 danzas for piano which he wrote beginning at the age of ten and continuing the through the remainder of 19th century. The Cuban danza takes its form from the musical structure of the French contredanse, but it is not exactly a dance in the literal sense. It is, instead, a musical miniature in dance form that expresses a feeling, a thought, or an event.
Cervantes was not the first to compose them. The father of the Cuban danza as an art form was Manuel Saumell (1817-1870), and it is his contradanzas which served as models for composers who followed. Many Latin composers wrote danzas, often as one might write a letter to a friend. Even Gottschalk was familiar with this music. His unfailing ear enabled him to write in this unique idiom with fluency and imagination. But it was Cervantes who brought the form to it most perfect realization in the 19th century.
To fit the mold exactly, a danza should be in a symmetrical binary form consisting of two different strains of 16 measures each. Either of these sections may be repeated, occasionally with variant endings. The beginning of the second strain is sometimes marked by an anacrucis of three eighth notes, and may be in a different key or mode.
Most danzas are in 2/4 time8 and make use of syncopation in both the right and left hand. The Habanera rhythm, or cinquillo, is ubiquitous in the melody, and often found in the accompaniment as well. Additionally, a common rhythmic device used in the left hand anticipates the second beat. It is a rhythm that most associate with the tango, but which actually originated in the Caribbean.
| | |
| --- | --- |
| | |
| "Habanera" rhythm | So-called "tango" rhythm |
Occasionally syncopation crosses the barline. Observe, for example, the lovely passage in Invitacion beginning at bar 24 where it is marked animato.
Play the video above to hear a performance by Glenn Jenks (269k).
Many danzas are written in minor keys, but Cervantes seems to favor major; and often when he begins in minor he finishes in the parallel major.9
Several questions arise when performing these pieces. First and foremost, they are almost all of them very brief. In concert it would be sensible to play through them twice. Some recordings of Cervantes danzas proceed in this fashion.10 This begs another question: do we repeat verbatim, or may we take some liberties with the score the second time around? We know that performance practices in the late Romantic Period allowed for an occasional musical elaboration. The use of doublings in both the melody and the bass, as well as registration changes, the addition of ornaments, and even a thoughtful arpeggio or refiguration of the accompaniment would not seem to be out of line. The important thing for the pianist to remember is not to interfere with the thrust of the melody or the mood of the piece; and in any case, it would never be wrong to repeat the music just as it is.
The three examples presented here are typical of Cervantes' danzas. Two of them, Invitacion and No llores mas, are from Six Cuban Dances for Piano, published by G. Schirmer. The copyright on this edition says 1899, but Richard Brundage of the Publications Department at Schirmer's informs me that "2390 copies of Six Cuban Dances were printed between 1918 and 1925."11 With the exception of No llores mas, they were left untitled.
To confuse matters a bit, these same six danzas were republished by Masters Music Publications of Boca Raton, Florida, all of them with incorrect titles except for No llores mas.12
This is the only edition of any of Cervantes danzas that remains in print in this country.
The third danza is also untitled in the 1918 Schirmer edition. The thematic index provided by Orlando Martinez in his article l'Orbita y creacion de Ignacio Cervantes" shows its proper title to be Homenaje, meaning "homage" to Manuel Saumell. (Saumell's name is spelled with one "l" in the dedication.)
Mention must be made of a recent fine edition of nearly all of Cervantes' danzas released as Book 35 of "The Superior Teacher's Library of Piano Classics," published by Charles Hansen II Music and Books of California. The copyright is 1976 by Shattinger International Music Corp., and it contains all but his earliest extant composition: Soledad, a danza dedicated to his mother, Maria Soledad Kawanagh, which he composed at the age of ten.13 It is a startlingly mature sounding work, and the equal of many written by Saumell.
Invitacion is probably Cervantes' most familiar danza. It can be heard in the soundtrack of that wonderful little Cuban film "Strawberries and Chocolate." Typical of the 19th century danza, it begins in a brooding e-minor, but shifts to E-major for the second strain, imbuing it with a bright optimism by the time it ends.
It is instructive to compare the Schirmer edition by Max Vogrich with the Hansen edition by pianist Edmundo Lopez. The latter has added fermatas to all the beats in the 16th bar, the downbeat of bar 24, on the E-major triad in bar 28, and on the accented chord at the downbeat of bar 30. In addition ritards are indicated at bars 15 and 23, and a double slash, indicating a cutoff and pause, is inserted after the chord in bar 30. All of these markings indicate a high degree of elasticity in the tempo of this piece. Much of the rest of Mr. Lopez' editing is in a similar vein. The composer's daughter Maria Cervantes, herself a musician, gives us an enthusiastic endorsement of his work in the preface to this edition.14 It seems clear we are being told exactly how highly charged and emotional this music is supposed to be.
No llores mas is a tiny slice of domestic theater: a crying child, a comforting mother. The crying dissolves to muted sobbing at the end of the second strain, where it ends with a half-cadence with a modal shift. It is one of Cervantes' most expressive moments.
Homenaje was dedicated to Manuel Saumell. It is harmonically rich, melodically sophisticated, and sounds in places like a Spanish guitar. The crescendo at bar 12 suggests a deep drawing in of breath, which is followed by a long exhaled resignation. The tone of the second strain is sad but not hopeless, and it achieves a perfectly arched melancholy as it reaches its last four bars.
Cervantes died in 1905 in his native land, much-loved by his countrymen for both his music and his patriotism during Cuba's struggle for independence. So it is a little difficult to ponder the issue of why Cervantes' music has slipped into near oblivion. Certainly the fact that he threw away a promising career in Europe contributed to his current obscurity. His music has been played for a long time by knowing musical caretakers in his homeland, but today's heightened interest in Cuban music has seemingly not translated into enthusiasm for a period which lies beyond our 'collective memory.
Ignacio Cervantes was Cuba's greatest 19th century composer. His music is complex, revealing, entertaining, and handsomely crafted. It is also marvelous fun to play, and the time has come to give him his due.
ENDNOTES
Jackson, Richard; preface to The Little Book of Louis Moreau Gottschalk; N.Y. Public Library; p. 25.
Starr, Frederick; Bamboula; Oxford Univ. Press; p. 290.
Martinez, Orlando; "Orbita y creacion de Ignacio Cervantes;" article obtained from the Museo Nacional de la Musica in Havana; p. 11.
Ibid.
Lopez, Edmundo; "Ignacio Cervantes;" trans. by Edith Grossman; preface to "Ignacio Cervantes: A Highlight of His Best Loved Original-Works;" Charles Hansen II Music and Books of California Inc.; p. 4. This anecdote is included in Martinez, p. 12.
Ibid.
Ibid.; p. 5.
Cervantes wrote one danza in 3/4 time entitled La Cortesana.
See Jackson; p. 23.
Listen to Felix Spengler's recording of Saumel, Cervantes, and Lecuona.
Letter to the author, dated Oct. 15, 1998.
The titles given to the six Cuban dances by Cervantes in the edition by Masters Music Publications, Inc. are as follows: 1. La tarde esta amorosa, 2. Mis amores, 3. Ditirambica, 4. Tintilla de Rota, 5. No llores mas and 6. De mil amores.
Originally titled La Solitaria, the composer's daughter Maria Cervantes changed the name to Soledad; see Lopez; p. 4.
Lopez; p. 7.
Eighteen of Cervantes' danzas may be heard on a recording by Glenn Jenks on a CD titled Invitation to the Danza, VRD 2011, and may be ordered through Amazon.com.
Please note: This essay and the audio clip of Invitacion are both used with permission of the author/performer.